2007 Sudler Award Recipient
The Sudler Trophy is voted on annually by all Bowl Championship Series (formerly Division I) band directors. Since its inception in 1982, it has been given to a college or university marching band that has demonstrated excellence in marching routines and musical standards, and has made important contributions to the advancement of performance standards of marching bands over a number of years. No school can be honored with the award twice. Administered by the John Philip Sousa Foundation, the award is named for the late Louis Sudler, a Chicago businessman, performing artist and arts patron, who had an active interest in both bands and band music.
"The trophy salutes 110 years of excellence, from the first 22-member band in 1896, to the current group of 250. We are very proud to have been awarded this wonderful trophy and equally honored our colleagues in the band world think so highly of our ensemble."
– Dave Woodley, Director of Athletic Bands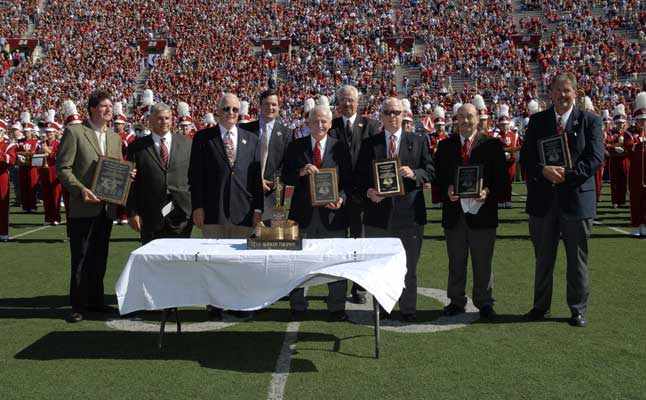 The trophy was presented during halftime of IU's Homecoming football game against Penn State in October, 2007.