Alumni News
The IU Marching Hundred Alumni Band Council is proud to present the "Newell Hillis Long Award" to our 2022 recipient, David Finkel! …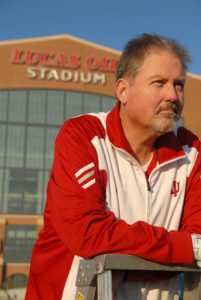 The IU Department of Bands/Wind Conducting would like to share our most heartfelt expression of gratitude and support for Professor David C. Woodley, who stepped down from his role as Indiana University Director of Athletic Bands at the conclusion of the 2019-2020 academic year.
From Gwyn Richards, former David Henry Jacobs Bicentennial Dean:
Professor Woodley's 27 years in the position have been marked by numerous achievements, most notably, the receipt of the 2007 Sudler Trophy—in recognition of the Marching Hundred being named the most outstanding collegiate marching band in the country—and its appearance at Super Bowl XLVI, in 2012.
His remarkable service to the organization will be recognized at an IU Homecoming by our continuing students and by representatives of the thousands of students who previously studied with him.