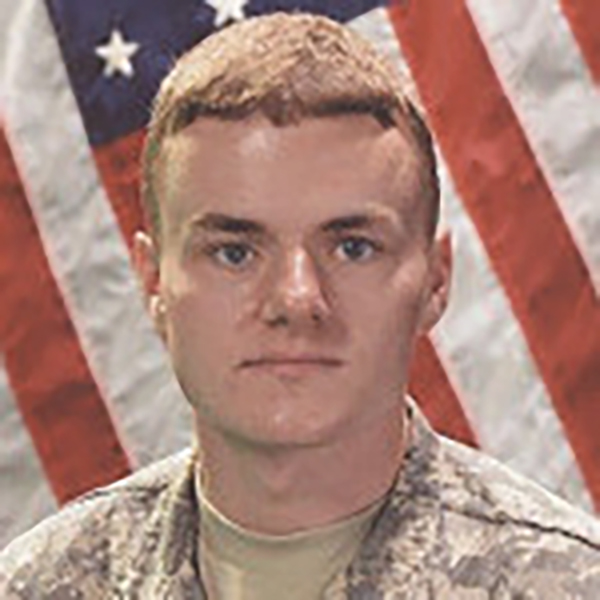 Tribute to Derrick Evan Wallace
December 20, 1986 – June 13, 2013
Staff Sergeant Derrick Evan Wallace, 26, of San Antonio, Texas (formerly from Kokomo) died on Thursday, June 13, 2013 in San Francisco, California. Derrick was born December 20, 1986 in Ft. Myers, Florida to Daniel H. and Stacy L. (Thieke) Wallace.
Derrick attended Taylor High School and graduated as Valedictorian of his class in 2005. He then attended Indiana University Bloomington where he earned a degree in Music Performance in 2009. During his time at IU, he marched with the IU Marching Hundred and was a member of the basketball band cheering on the Hoosiers. Derrick accomplished many things during his short time here on earth. He was selected for the Indiana Band Masters All District Honor Band where he was first chair trombone. He was also selected for the Indiana All State Band Festival where he was the first student from Taylor High School to earn a spot there. He was in the Indiana State Orchestra, he received the Director's award for band, he won the Past Presidents Scholarship competition presented by Kokomo Morning Musicale, he played with the Kokomo Park Band where he won the high school student musician competition twice, and he was in the Bands of America Honor Band and Orchestra. He played for the New World Youth Orchestra at the Hilbert Theater in Indianapolis. He was a member of the Circle City Sidewalk Stompers Clown Band and also played with the Howard County Community Band. He played for special services at Oakbrook Community Church and Lutheran Church of our Redeemer. Music was his life. His talent was immeasurable.
He also received much academic recognition such as All American Scholar, Who's Who among American High School Students, National Honor Society, National Spanish Honor Society, National Honor Roll, and Tri-M Music Honor Society. He had certificates and awards too numerous to mention. In college he was on the dean's list and received a Certificate of high scholastic achievement, he was a Well's Scholar Nominee; he was a member of the National Society of Collegiate Scholars and Pi Lambda Theta.
After college, Derrick enlisted in the United States Army where he was honored to play in the military band. He began his Army career at Ft. Jackson in Columbia, South Carolina for basic training then on to the Army School of Music. After that he was stationed at Ft. Garrison Yongsan in Seoul, South Korea for one year. His next post was Ft. Gordon in Augusta, Georgia, where he received the rank of Sergeant, and most recently Ft. Sam Houston in San Antonia, Texas, where he played with the Biohazard Bass band and the 323rd Ft. Sam's Own Army band and advanced to Sergeant (promotable). He was awarded an E-6 ranking and title of Staff Sergeant posthumously.
Surviving with his parents are, Maternal grandmother, Linda (Gail) Thieke, Kokomo, Uncle Kevin (Heather) Thieke, Peru, Uncle Christopher Thieke, Kokomo, Aunt Darla (David) Arnett, Burlington, Nephew McKahl Wallace, Kokomo, and Niece January Wallace, Kokomo as well as cousins, great aunts and uncles and many, many friends.
He preceded in death by his brother, Adam Wallace, paternal grandmother Veola Wallace, paternal grandfather Emery Wallace, and maternal grandfather Leonard (Ed) Thieke.
Derrick was a fun loving, adventurous soul who knew no stranger. He was always willing to help anyone at any time. His smile was contagious. He will be greatly missed by many family members, friends and acquaintances. This world was a better place because Derrick was here. Derrick had a love for serving his country. Memorial Contributions in Derrick's honor can be made to the Wounded Warrior Project.