Debbie Cardwell Peterson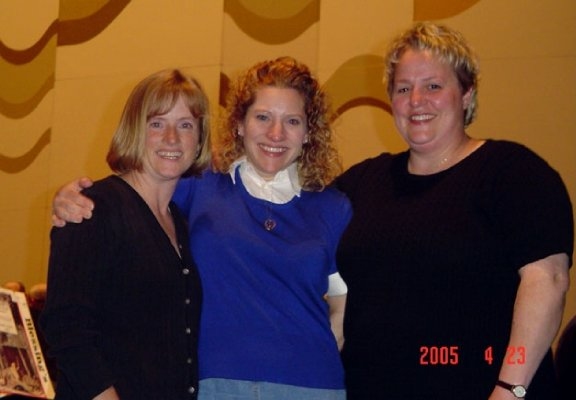 by Aimee Hoover Page
I remember Debbie……In 1981 she was an incoming freshman horn player at Bloomington High School North. Debbie was like no other girl I'd ever known. She was tough, no nonsense and competitive. Completely driven and devoted to the band program, she was the same with her sports. During high school, she endured disease and several surgeries, and took it in stride. Rather than complaining, she seemed to view it as more of an annoyance, just something that held her back temporarily from her beloved sports. What an example she set, and probably didn't realize it. A few years later, we were together again at the I.U. music school. More crosses to bear for her when she had a major surgery and faced the fact at such a young age that she'd never bear a biological child. She also had difficulty in applied music, and it was painful for me to see her change her instrument from French horn to euphonium. But these challenges did not break her, as they may have with other folks. She had the ability to put one foot in front of the other better than anyone I've known. One thing she never lost was her smile, or her straightforward sense of humor. Combining the marching and pep bands with her love of sports was the perfect blend for Debbie. She created a life for herself, keeping I.U. music in it, although her career took her elsewhere. A car accident injured her knee and leg, and after numerous surgeries and infections, she eventually left her job at the hospital. Her pastor related a funny story about one of Debbie's final surgeries—some folks use a marker to write on the limb that needs the operation. Debbie didn't write, "This is the one," or, "Not this one!" She wrote, "THIS IS YOUR LAST CHANCE!". Typical Debbie!
Debbie married Greg Peterson in 2003. My brother gave me the news, and I was thrilled for her. Greg shared with us at Debbie's funeral service that they were soul mates. It was a match made in heaven. Debbie and I had a joyful reunion in 2005 for Mr. Cramer's retirement weekend, which she organized. What a good time we had! We played in the Alumni Concert Band together, and we only wanted to sit next to each other, like old times in high school. During our I.U. careers, we never played in band together or marched a step together, so this was special. We stayed in touch via e-mail and loved the reconnection. I noticed how she was sharing spiritual e-mail with me. We never discussed her Christianity; instead, she lived it. We were planning another wonderful reunion in Bloomington this past summer with the Coast Guard Band coming to town, and then came the fateful day of June 22, 2009 when we lost our dear friend, Heather Cramer Reu. The three of us had played together in high school in all the city, county and state events. Heather had been a sounding board for Debbie as a mother when she and Greg were blessed when their son, Issac, entered their lives. Losing Heather affected Debbie tremendously. We grew closer since losing Heather and spoke more often on the phone as well as our normal e-mails. Debbie's e-mails to me became deeper and she began baring her soul.
"Lately I am writing these poems after the fact instead of telling people how I feel.  So you, my friend of a hundred years mean the world to me and I want you to know that."
"I do love you Aimee, I may have been a pain in your butt in high school, but I didn't know how not to be competitive back then."
"Try to put your pain through your horn and think of Heather as if we were all playing next to you.  I'll be there in heart, Heather in spirit."
"Take care, I will tell you at the end of every email, I love you."
Although I had seen her sensitive, loving side when we were adults, I realized I was seeing her true heart and vulnerability for these past 4 months. I had the good fortune to have Debbie as a friend and grow up with her. Knowing Debbie, then losing her, has changed me and she's helping it be for the better. I have memories of Debbie, but I also have so much more.
by Ra Anna Robertson
I met Debbie as a member of the I.U. Marching Hundred.  I honestly don't remember exactly which years we were in the Hundred together (although I was there before & after she was), but Debbie was always an excellent addition to the mellophone section.  I.U. marching and pep bands allowed Debbie to combine her passions for music and sports.  I remember one year she invited the whole Hundred mellophone section and our guests out to her parents' home for a cookout.  We had a great time!  Debbie was always very committed to playing with excellence, but she balanced that with a willingness to joke around and have fun too.
I really got to know Debbie better in the years following graduation through her faithful participation in the alumni bands for homecoming and basketball pep band.  Debbie loved I.U. bands and wanted to stay involved even after graduation.  Years ago she emailed me and asked if I knew what she needed to do to try to get involved with the alumni band board.  I remember telling her that she had just "done it," and Debbie ended up serving on the board for several years!  Debbie was one of those people who was not at all what you thought she was upon first meeting her.  Debbie had what I'll call a "gruff" exterior.  I think she sort of wanted people to think she was a "tough old bird" who you couldn't hurt, but when you really got to know Debbie, you discovered one of the most tender-hearted, compassionate people I've ever known.  Debbie was generous almost to a fault, and she loved to help people. Debbie bought a French horn that she found somewhere on the internet.  She was so proud of it, felt she had gotten a great deal, and went on and on about what great shape the horn was in…  Do you know what Debbie did with that horn?  She allowed a teenage boy (who shall remain nameless) to borrow it!  (Now maybe that particular boy was an exceptionally careful teenager, but still – would you let some teenage kid borrow something that valuable?)  Debbie also had a very sentimental side.  I remember talking to her about Mr. Cramer's retirement, and she could hardly talk about it without tearing up saying how "I.U. bands would never be the same without him there."  Debbie was absolutely devastated when her dear friend Heather Cramer Reu was killed earlier this year.  Debbie loved to write poetry.  Poetry, you ask?  That "tough old bird" wrote poetry?  Yes, indeed, she did.  Debbie never let adversity get her down.  She had bad knees even in college from abuse through the sports she so loved, I think, but Debbie didn't complain much.  Years later when she finally had knee surgery then ended up with a very serious infection and had still more surgeries, she just took it all in stride.  Debbie was in her 30s/40s and couldn't walk as well as some 80-year-olds, but she never let that stop her from participating in alumni band activities.
Debbie couldn't go anywhere around an I.U. athletic complex without seeing people she knew.  Because she had lived in Bloomington most of her life, Debbie knew an incredible number of people.  She knew people at the concession stands, people who were ushers, people who were taking tickets, people working security, etc. and she was never too busy to stop and talk and to ask how they and their families were.  Just this year at homecoming Debbie must have talked to 3 or 4 different people as we walked to our spots along the sideline to wait to march onto the field!  You could tell that everyone loved Debbie because they greeted her with a big smile and asked about her and her family.  Debbie's dearest friend in the world was her husband Greg.  She told me once that they were soul mates.  Debbie couldn't have been prouder of their son Isaac.  She was forever sending me pictures or telling me little stories about funny things Isaac did.  Debbie was a one-of-a-kind gem, and my life is richer for having had her as a friend.